This post may contain affiliate links. If you purchase something from one of these links I will be compensated. This helps keep the free content coming. Thank you.

---
As much fun as small patterns can be, sometimes there is something so wonderful about taking the time to crochet a skirt. There's such a feeling of accomplishment there; and of all the items I were that I've made, skirts get the most complements. I think people are always a little shocked to see a crochet skirt that looks nice and is flattering. So go impress yourself and your friends and make one of these lovely creations!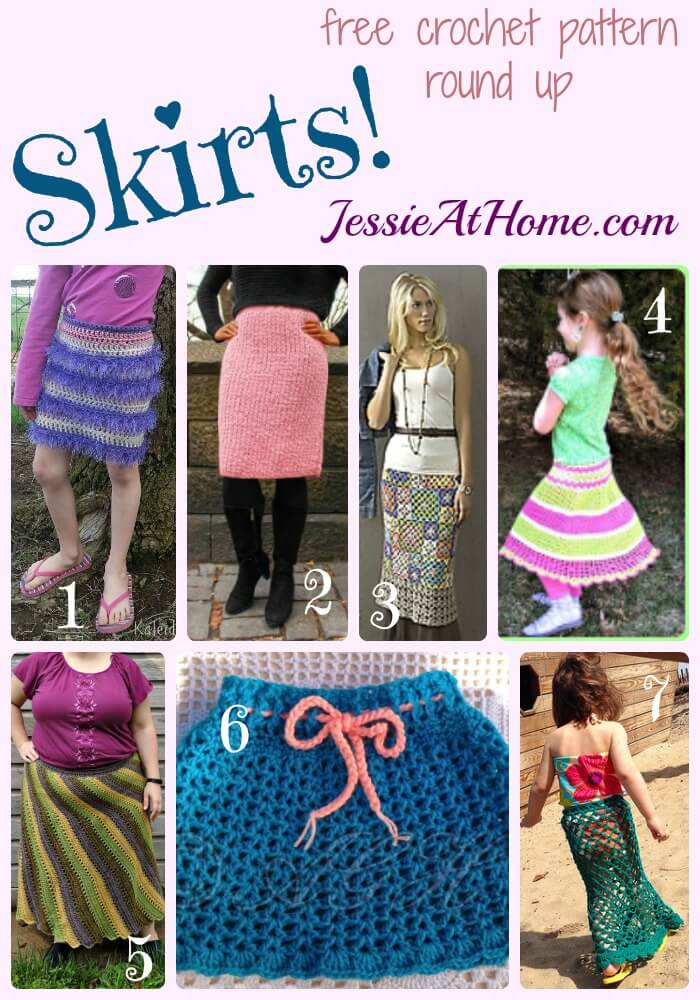 Here are the names and links of each pattern.
1) Firecracker Flapper Skirt – by Lisa Jelle
This fun and festive skirt inspires the wearer to skip, to dance, and to be free. Put it on your little darling and watch her soak up all the attention in the room!
2) The Modern Melissa Skirt – by Underground Crafter
It makes a great first garment pattern for an adventurous beginner, but it's interesting enough to keep a more experienced crocheter interested.
3) Archena Skirt – by Doris Chan
This lovely skirt puts a new spin on granny squares.
4) Daisy – by Jessie Rayot
Daisy is a fashionable flared skirt perfect for the spring and summer! This skirt works as a swimsuit cover up for the beach, or as everyday wear over tight shorts or leggings.
5) Off-Balance Skirt – by Jessie Rayot
After making the Skylark in Wonderland wrap, I couldn't help but notice that it would seam together to make a really fun skirt. I even had a feeling the angle of it would work nicely for plus size figures as well.
6) "Hailey" Quick and Easy Newborn Skirt – by AGHandmades
A very, very simple design, which anyone with a knowledge of single crochet, double crochet, half double crochet and front and back post crochet can make in a heartbeat.
7) A Little Mermaid Skirt – by Crochet Kitten
The netting pattern in this skirt was chosen for its resemblance to fish scales, and we designed it with a slit in front so that your little land mermaid can run freely in it without tripping on it.
Don't forget to check out some of the other great Round Ups that have happened in Blogland over the last week!
To see more Round Ups from Jessie At Home, click here.
©Copyright 2016 Jessie Rayot / Jessie At Home All my videos, patterns and posts are my own work. Do not copy them in any way. If you want to share this information with someone, share the link to this post. If you want to share on your own blog / website, then you may use the first photo in this post and link back to this post. You may not give away printed copies of this post. Thank you.
This post may contain affiliate links/ads. If you purchase something from a link in this post, I may be compensated.