This post may contain affiliate links. If you purchase something from one of these links I will be compensated. Thank you.

---
Wow, I have a lot of things in the works right now!!
First I have some big news that will make a lot of you happy.
I have started the CROCHET versions of the Kat/Katherine coats!!!
First I will be making the child's pattern, sizes 3 to 12, same as the knit version. I am using Lion Brand Heartland for this one. It is soft, shiny, and oh, so pretty. Plus it is washable and made in the USA. It will most likely be fall before the child version is ready to send to the testers, and then 3 or 4 months with the testers before the pattern is ready for the public.
Once the child version is with the testers, I will start on the adult version. Sizes XS to 5X, just like the knit version. I am thinking of using Heartland Thick & Quick, but I'm really not sure on that one. I am very excited about this! Fairy coats for EVERYONE!!!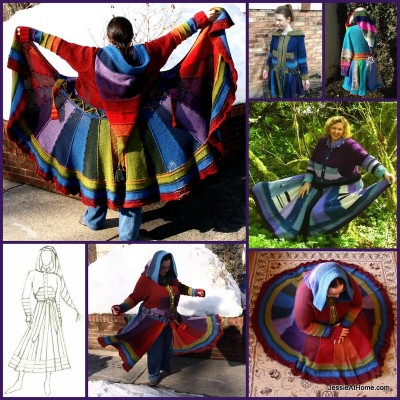 Have I told you my parents were transferred? Mom is now teaching on a base in Sicily (I think it's in Sicily). I'm not sure if it is an Army or Navy base, but my guess would be Navy.
I received a package in the mail from my mom today. This fun yarn was in it. It is called Balocco, and it is from Tropical Lane. I have no idea what I am going to make with it, but considering I have about a million WiPs, maybe I should just think on it for a while…
Speaking of Mom, a while back she told me about a gentleman she worked with who had a great scarf that his grandfather had made for him. I had her take some photos and send me an email with a bit about it.
Here is the email she sent with the photos:
This is Jack. His grandfather made him the scarf when he was 12. His grandfather was a carpenter and made the scarfs to supplement his income. Jack didn't see him make it but was told that his grandfather took a board, pounded nails in it, and somehow wove the scarf. I thought of you as soon as I saw it.
Love,
Mom
I wonder if it was something like the knitting looms that are so popular now. Or maybe it is something else entirely. If you have any idea, let me know. I would love to figure this out!
Back to my home, I have way more knit and crochet WiPs then I would like to admit. So what is there to do, but start another?
This is going to be a rug for Kyla's Pink Princess Room. I am using 4 strands of Red Heart Super Saver at a time with size 35 knitting needles. As you can see, I am knitting it in panels, and using a join~as~you~go method to add on to it. This way it fits on my needles, and I can easily make color stripes.
Yes, I am writing down the pattern as I go, and I will share it when I am done. The cable pattern is one that has been floating about in my head for a while. I am thinking of making a smaller version for a pillow as well.
As for the Pink Princess Room…
We went to Home Depot on Friday and bought most of what we would need to fix up the room. Those floor boards are as wide as the box. They really look like something you would imagine in a castle, and it was still less than $100 for enough for the whole room!
We ended up pulling down all the plaster from the ceiling. It just was not going to look good if we patched it. And really, it only took 3 sheets of drywall to do the whole ceiling.
Most of my renovation knowledge comes from my father, and I have to thank him for that! I don't even want to know what would have happened if he hadn't taught me so much. Not to mention the vast amount of awesome tools in my garage. Doug's friends come over, drool over the tools, and then are shocked to learn they are MINE!! Anyway, there is one thing I have to thank the DIY network for: teaching me about the drywall lift! For less then $30 we rented that thing for 4 hours and got the ceiling up without any injury or even much strain.
There were a few little hiccups, but considering neither of us had ever put up a ceiling before or even watched someone put up a ceiling (other than on the DIY network), I think it is pretty good!
Ready for some paint. Did you know there is special ceiling paint. I had never really thought about it before, but ceiling paint is a bit thicker so it doesn't drip. You know, gravity and all.
One coat wasn't cutting it. The green from the mold and mildew resistant drywall was showing through.
Kyla helped Doug with the second coat. Do you like my paint roller extender? That would be one of those nifty tools. Thanks Dad!! The silver part spins back into the rest, making the length adjustable, and the storage size just about 2 feet tall.
Doug laughed at me when I got so excited about that thing when Dad gave it too me a few years ago. Guess who isn't laughing anymore?
With the last of the ceiling paint, I had Doug go over the nicotine stained walls. They were so gross. (No, we do not smoke, this room was an office before, and the previous owners smoked in there.)
We bought a can of eggshell paint and a can of dark pink paint, with the intent of making 3 colors in between the eggshell and the dark pink, so 5 colors all together. The plan was then to paint the panels of the wood paneled walls in the 5 colors, and put the polka dots of the 4 pink on the ceiling.
Well, once I started painting one of the eggshell stripes, it became quite apparent the the eggshell was actually grey in comparison to the ceiling white. So, that meant I had to paint that little valley between all the panels in the eggshell in order to give the whole room a unified look. Don't worry if that didn't make since, as the project goes on, you will see…
Here we have the start of the first pink. I am going light to dark. After finishing the eggshell, I poured some off into an old Rubbermaid container for trim and touch ups; and then added some of the dark pink to get the lightest shade. We actually have a color card we are using to to determine the shades.
Once I finished the light pink, I stored some of that in another container, and tomorrow I will repeat the process twice more for the 2nd and 3rd pink. The last pink will be the dark pink from the can, so I won't have to mix that one.
OK, I have to get to my yarn, I have been neglecting it for paint, and it is sad.
©Copyright 2014 Jessie Rayot / Jessie At Home All my videos, patterns and posts are my own work. Do not copy them in any way. If you want to share this information with someone, share the link to this post. If you want to share on your own blog / website, then you may use the first photo in this post and link back to this post. You may not give away printed copies of this post. Thank you.
This post may contain affiliate links/ads. If you purchase something from a link in this post, I may be compensated.