This post may contain affiliate links. If you purchase something from one of these links I will be compensated. Thank you.

---
Hello friends, today we have a special guest post for you – enjoy!

This free crochet pattern roundup for crochet shawls is compiled by Rhelena of Crochet Pattern Bonanza – a free crochet pattern directory.
Crocheted shawls are not only fun to crochet, but they make for great gifts as well. They can be worn in many different ways with elegant dresses or anything casual.
And they are perfect for all seasons as well! In the cold winter weather you can drape them around the shoulders to keep your shoulders and back nice and cozy. Or, bunch them up like a scarf around the neck. As for the summer, they make for excellent beach cover-ups – either drape them over the shoulders, or tie them around the waist for a nice beach skirt.
Fall Sparkles Shawl by Jessie At Home
This shawl is so perfect for the fall; not only because of the fall colors, but also because it has tiny fall leaves worked into the elegant lace. Wear it with an evening dress, a tank or any long-sleeved shirt.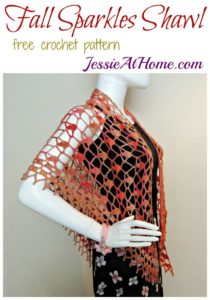 Dixie Charm by ELK Studio
Here is another pretty stitch pattern for you to enjoy. It's worked with Patons Silk Bamboo, which is a natural material, thus making it perfect for summer or winter.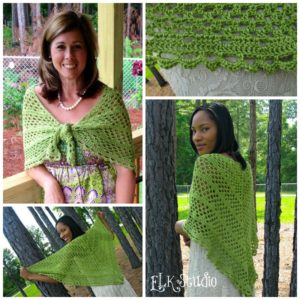 Justine Shawl by Underground Crafter
This shawl has a lovely slant, which makes it unique and perfect for a variety of outfits. Plus, this pattern is perfect for crochet beginners.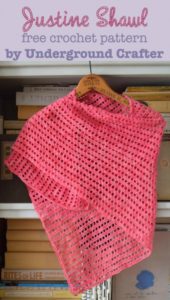 Granny Stitch Triangle Scarf by String With Style
Who knew the granny stitch could look this lovely in a shawl? It is shown here as a cozy scarf, but you can just as easy continue in the pattern for a lovely shawl. And it's available in both child and adult sizes.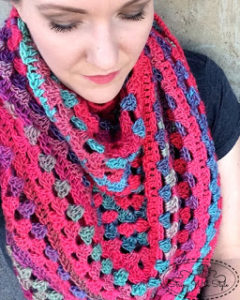 Unchained Shawl by Jessie At Home
What's not to love about this shawl? The pattern lists all the specific colors, thus allowing you to make yours identical to this one. The stitch pattern is simple, yet pretty enough to go with anything. And, you can crochet this to any size you want.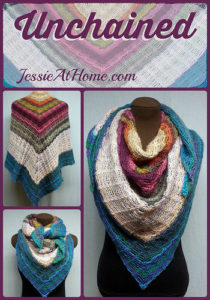 Amara Shawl by Moogly
Here's one for those who love pineapples. It's light and lacy, and works up quick. Plus, it's perfect for all seasons of the year.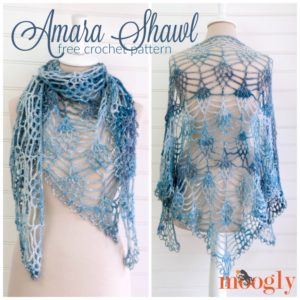 Mariposa Lace Shawl by CrochetKim
This shawl not only has a pretty design, but it also has a gorgeous drape. It's worked up in Tunisian crochet, and comes with a left and right handed video tutorial to help with the stitches.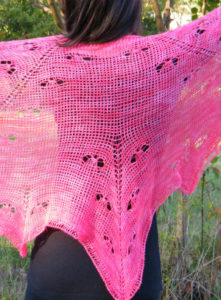 Gentle Solace Prayer Shawl by Oombawka Design
Crocheted in a homespun yarn using a Q crochet hook, this shawl not only works up quick, but it looks super cozy as well. The pattern also provides a stitch count so you can easily crochet this to any size you want.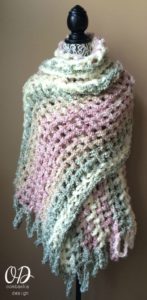 Julie Shawl by Jessie At Home
Although this shawl barely reaches past the shoulders, it does look cozy enough for the winter. And it's sure to match with anything in your closet.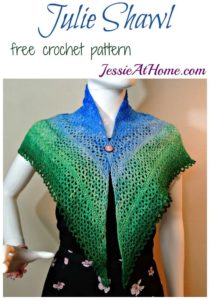 Purple Glam Shawl by Maz Kwok's Designs
The gorgeous open lace and the way it comes together at the front for a nice even look make this shawl ideal for any occasion including weddings.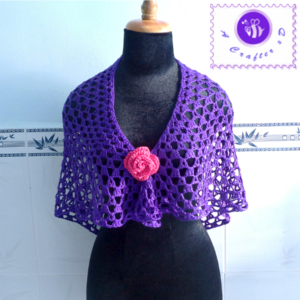 Abstract Shawl by Posh Pooch Designs
This shawl features a simple, yet pretty lace that's perfect for year-round. The written pattern also comes with a handy video tutorial.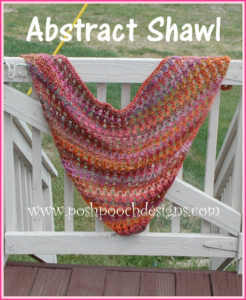 Bead and Lace Shawl by CrochetN'Crafts
Worked in a fine material, this shawl has a lovely drape and can be worn as a cozy cowl or as a wrap. The stitch pattern is a bit time consuming, but it's got a lovely texture to make it worthwhile.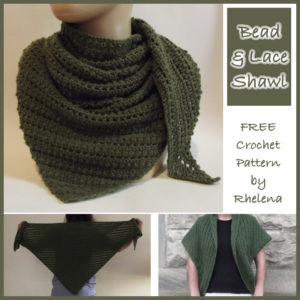 I hope you enjoyed this small collection of shawl patterns and found a few that you like for yourself. And you might also enjoy a visit to Crochet Pattern Bonanza for more free shawl crochet patterns.