This post may contain affiliate links. If you purchase something from one of these links I will be compensated. Thank you.

---
Stripes!!! Stripes are fun!! So fun that I had a hard time keeping this round up from overflowing! The majority of these patterns are free, but there are a few sale patterns included as well.
Here are the names and links of each pattern, along with a little something that each designer has to say about them.
1) Simple Rainbow Bracelet ~ Free Crochet Pattern from Jessie At Home
I have a fun and simple pattern for you today! It is a striped bracelet with tied ends.
2) Butterfly Garden Afghan ~ $4.99 Crochet Pattern from Crafting Friends Design
Looking for a baby shower gift? This is a beautiful afghan anyone would love to receive.
3) Rainbow Dash Baby Blanket ~ Free Crochet Pattern from Beatrice Ryan Designs
This Free Crochet Pattern is an adorable baby blanket that is bright and cheery… It can be made using one or more colors to get the effect you desire. Great texture front and back too!
4) Easy Baby Blanket ~ Free Crochet Pattern from Daisy Cottage Designs
Doesn't it seem like it's the season for baby showers? I love going to those fun events and getting ready to welcome new life. Whenever I have time, I love to make a homemade gift. Whether it's a baby blanket or a crocheted "lovey," it makes me feel like it's something a child might treasure forever.
5) Joseph's Puff Stitch Blanket ~ Free Crochet Pattern from Jessie At Home
Here is a fun puff stitch pattern I designed for a baby blanket for a friend of mine. By working the puff stitches around the posts of the row below, they create little polka dots that drop down into the previous color. The texture of the little dots are fun for little fingers as well!
6) Striped Stash Buster Blanket ~ Free Crochet Pattern from Simply Collectible
When I started this stash buster blanket, I wanted something handsome for my son's room. He'd just turned 4 and was ready to graduate from the toddler decor and I was definitely excited about that.
7) Fanny Skirt ~ $4.00 Crochet Pattern from Jessie At Home
Fanny is a fan stitch and double crochet skirt with a slight flare. The top of the skirt is made of 6 panels of fan stitch alternating with 6 wedges of double crochet. The panels/wedges are made one at a time and connected to their neighbors as they are made, so only one yarn is being worked at a time; no multiple bobbins or skeins being worked at once! The bottom is ringed with alternating bands of double crochet and fan stitch and then finished off with a lacey trim stitch.
8) Candy Twist Bag ~ $4.99 Crochet Pattern from Glamour 4 You
The Candy Twist Bag is a great bag to make a child for a Halloween Trick or Treat bag. Or for anyone that likes Candy, it can be used as a purse all year round!
9) Forest girl hood ~ free crochet pattern from A Crafter xD
Pixie hat style for adult hmm… but I made a hood : D
10) Fat Striped Bag – Purse Crochet Pattern ~ Free Crochet Pattern from Posh Pooch Designs
This Bag is the perfect shape and size to take to the beach, pool, picnic, on a trip, or even to the farmers market.
11) Crochet Striped Dishcloths ~ Free Crochet Pattern from The Stitchin' Mommy
A few weeks ago my mom asked me to make her some custom dishcloths to go with the decor in her kitchen. She loves fruit and has A LOT of bright colored fruit-themed items in her kitchen. Instead of making her fruit shaped dishcloths, I decided to make her dishcloths that were more practical but still had pops of color.
12) Toddler Ribbed Shell Top ~ Free Crochet Pattern from Cre8tion Crochet
This super sweet girls shell ribbed tee is perfect for the upcoming spring weather. Perfect, worn over a tank or tee. You can even add extra shell rows on the arm to make it a long sleeve.
13) Star Divine Wristers ~ Free Crochet Pattern from The Country Willow
Cute, stripey, fingerless mitts.
Don't forget to check out some of the other great Round Ups that have happened in Blogland over the last week!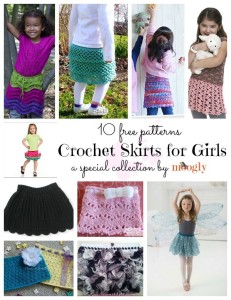 ©Copyright 2014 Jessie Rayot / Jessie At Home All my videos, patterns and posts are my own work. Do not copy them in any way. If you want to share this information with someone, share the link to this post. If you want to share on your own blog / website, then you may use the first photo in this post and link back to this post. You may not give away printed copies of this post. Thank you.
This post may contain affiliate links/ads. If you purchase something from a link in this post, I may be compensated.