This post may contain affiliate links. If you purchase something from one of these links I will be compensated. Thank you.

---
I can't believe it's Wednesday already. It seems like I just can't fit enough into the days! Well, here we have a bit of my Wips, and some finished objects as well.
I have made a few more ruffle scarves for street fair season.
I have been working on red and black Max hats for my friend who wants to put them in his dojo gift shop.
Lots of spa sets being made. I plan on releasing the last pattern tomorrow or the next day.
A few days after that I should put up a post with links to all of the spa set patterns.
I have been having fun hanging the bath poufs everywhere!
I am thinking of making a bunch of these to go cup cozies for street fair sales.
I have finally finished the sleeves and collar on my Kat coat.
Now it just needs a zipper, and a hood, and a skirt, and a belt, and some pockets. But it's getting there!
Vada seems to have acquired this little plastic lizard, I think it was in a goodie bag from a classmate's birthday. Vada says she keeps it to look at when she wants to remember Princess. Did I tell you Princess died a few weeks ago? She had a long life for a little lizard. The girls handled it very well.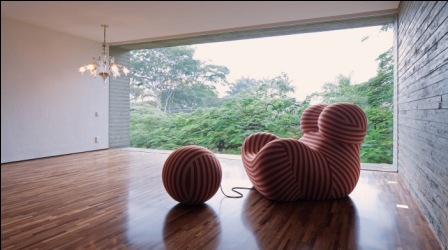 I will leave you with this cool picture. I believe it is actually fabric covering this chair and ottoman, but it sure is cool and yarnie~looking!
Well, I should get this posted before it isn't Wednesday anymore!
©Copyright 2013 Jessie Rayot / Jessie At Home All my videos, patterns and posts are my own work. Do not copy them in any way. If you want to share this information with someone, share the link to this post. If you want to share on your own blog / website, then you may use the first photo in this post and link back to this post. You may not give away printed copies of this post. Thank you.